I was reading posts today on the Lab Coat Agents Facebook group and came across a discussion about real estate website designers. One company had mentioned their sites were WordPress. So if I buy their website, and if I was already familiar with WordPress then I would assume the dashboard would be a typical WP dashboard and I would have full Admin access. You would think so, right?
With that said, on many occasions when we have replaced websites built on the WP platform, we will transfer their entire blogging history with images, publish dates and the previously indexed content including the indexed URLs. We will also make sure their plugins remain intact. This way, when we launch their new website, though within a new theme, their history will be in the same URL location with the same publish date, thus not starting all over for their SEO. We ran into some specific occurrences where the client stated they had a WP site but when we signed into their dashboard, it looked nothing like a WordPress dashboard.
While your website may have been built using .php WordPress technology, your web developer may have created an entirely different dashboard interface. A typical WordPress dashboard looks like this: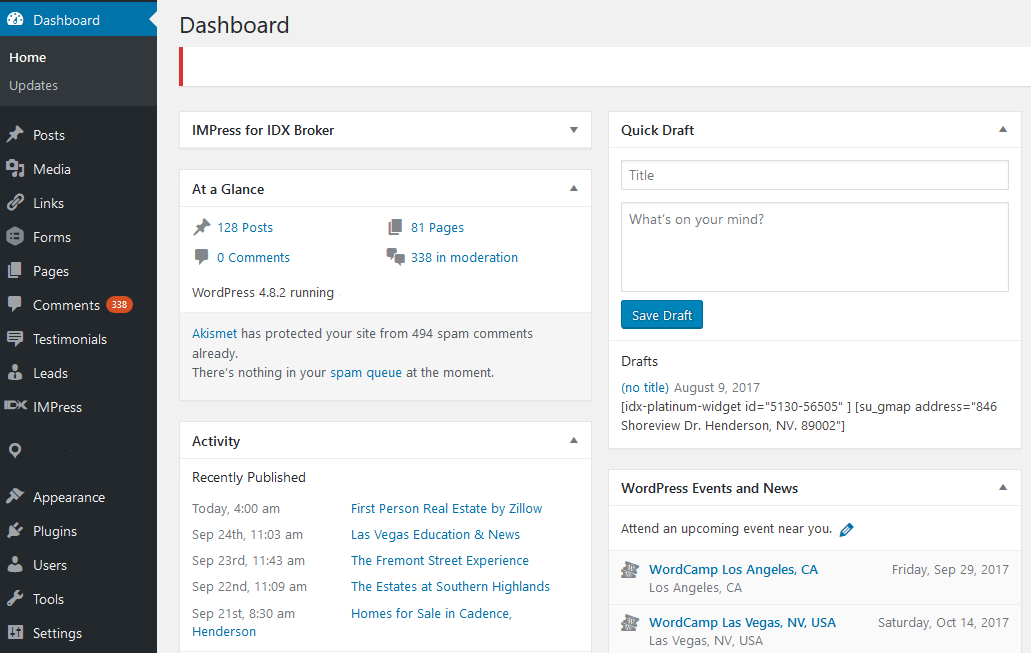 If your dashboard does not look anything like this, your web developer built a custom interface and this could cause future issues. One huge issue would be content migrations to a new WordPress real estate website if you choose to leave them. We had one client that had over 600 prior blog posts since 2012 and once we got in to the backend, we were at a loss. We had no way to zip up the folder and transfer to the new site. The client had to pay for many hours of work to have her posts manually recreated. Our backup plan would have been to FTP into her site and transfer the files, but the prior web developer would not give us FTP access. Probably because her website was being hosted in a multi-site shared server system which would also mean you don't own the actual container(website).
Another issue would be the inability to place cool WordPress plugins on your website or maybe embedded technology or script. We run into this regularly when we place our Reputation Marketing technology on our client's websites. They THINK they have full WP permissions, but again, when we sign in, we don't see the dashboard. At that point we end up working with their soon to be prior web development company to get them to manually place our code into our clients real estate website.
WordPress web developers regularly create custom site management portals for a good number of reasons. Maybe they have combined the portal to not only manage the site but also give their clients CRM access. Or maybe they have a WIX style drag and drop design feature. Some devs will not give their clients full WP access so that the client does not destroy their own website, which I have seen happen. That reminds me. You may see a typical WordPress dashboard on your website when you sign in, but you may not have full admin permissions. You will know this if you only see a handful of feature tabs on the left hand side and no access to the USER tab.
I am not saying custom interfaces are bad. They can serve a purpose. Most WP developers can build custom dashboards for their client's specific needs  But if you are thinking of buying or renting a WordPress real estate website, don't just assume you will have typical WordPress access much less full admin access to your website.
Facebook Comments